Why Mobile Media is Important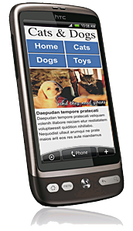 Why should you care about a mobile optimized web site? With today's on-the-go environment, mobile devices are quickly becoming the preferred way of web browsing and information retrieval. In 2014, the amount of users on the internet from mobile devices passed desktop usage. Google now penalizes websites who are not mobile optimized in some fashion.

Among smartphone owners, nearly half prefer to visit a retailer's mobile website, and 38% prefer a mobile application (InsightExpress).

Below are more reasons to include a mobile optimized version of your web site, part of a standard package that Uncle Henry's Media offers.


---
Some Interesting Stats:


25% of internet users are mobile only, meaning they do not access the internet for browsing from any other device. (Pew Internet)

---

47% of consumers confirm they use their smartphone to search for local information such as a local store they want to visit. (Local and the e-tailing group)

---

Over 2/3 of U.S. cellphone users have smartphones.

---

Over 80% of mobile phone users use a smartphone.

---

71% of smartphone users that see TV, press, or advertising that interests them will immediately do a mobile search. (Pew Internet)
---

72% of smartphone owners report that they want mobile-friendly sites. (Google)

---